David R. Payne
At 30 years old, David has been racing for 11 years now. David is a Physcial Education instructor @ Murphy High School, the head Varsity Basketball Coach, and the head JV Football Coach. Davd earned a B.S. of Education in 1992 from Western Carolina University, in Cullowhee, NC.
THE CAR
2001 GRT Pontiac Grand Prix
Hometown: Murphy, NC
RACETEK ENGINES-Eric Cables
Thanks to Eric Cables of Racetek Engines for his dedication to us and those powerful RaceTek Engines!!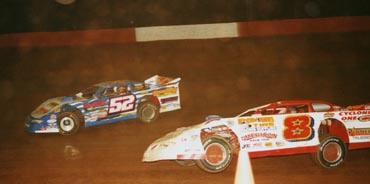 Career Highlights
As of 7/13/04 - this season he has 8 wins at three different tracks, 3 WINS in 2003, 5 WINS in 2002, 9 WINS in 2001 at 4 different tracks! Career Best 7th place UDTRA finish - Atomic 9/02
Made 2000 HAV-A-TAMPA Shootout Feature, 5 wins in 2000, 3 1999 wins @ North Georgia Speedway, 1998 winner at Smokey Mtn. Speedway(NC), 1 1997 win at North Georgia Speedway, 1 win at Tri-County Speedway.
EMAIL DAVID
REFERENCES

Former HAV-A-TAMPA Race Announcer and Coordinator- Ozzie Altman (770)479-7630

1996 HAV-A-TAMPA Hard Charger and '98 Rome winner-Ray Cook (828)837-8184.